My friends in Brigade road, Bangalore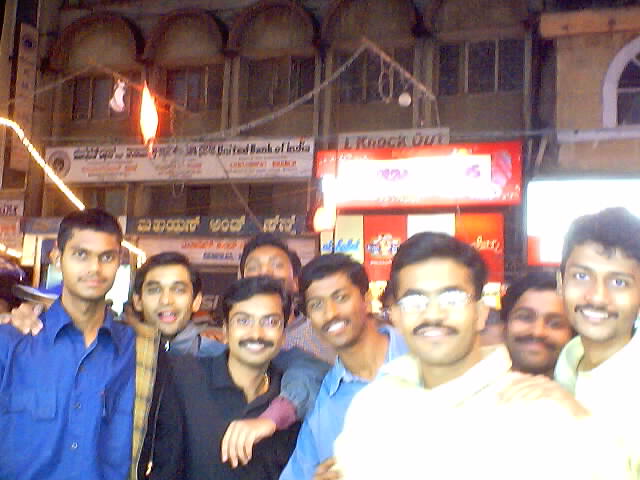 My friends in Brigade road, Bangalore
Hey I am Praveen (you already know). I am 22 year old. My birthday is on Nov 15th. No probs if you dont wish me. I am a Software Engg. I am working for a company called Tasman Networks. This is US based company. I am working here from past one year. This is great company to work.
I am basically from Krishna Raja Nagara. This is very near to Mysore, the Royal City. The old name of Krishna Raja Nagara is Yadothare.
Yadothare means Left Turn. The reason for this name is, the river Kaveri take left turn while it is flowing. Since Kaveri is flowing, this town is very greenery, very beautiful. There are some ancient places one can visit. If you want to visit my place give me a call or mail me.
I went to school in K R Nagara. I studied in government school. I studied here till 12th class. For the higher studies I left K R Nagara and moved to Bangalore. I did my Engg in JSS Academy of Technical education. I joined Engg in the year 1997 and finished in the year 2001. I secured 76.5% in Engg. The name university is Bangalore University. It is one of the big universities in Asia. Around 200 colleges are in Bangalore University.
I am not good in sports. I was playing Cricket but after joining Engg I left playing it. I love skating. I got first prize in district level Skating championship. I am very very good in computer programming. Programming is my passion. I got first prize for On the spot programming in college.
I love listening to music. Whenever I am free, Ill listen to music. I listen to English songs more than Hindi or Kannada. I love A R Rahaman music more. I love Bryan Adam and Bon Jovi. I do collect stamps of various countries. Ive around 2000 stamps of other countries around 300 stamps of India.
I have lots friends. I need complete page to fill. But mention some of their name here.
Myself and Harsha
Myself and Harsha
Harsha, Satya, Prashanth, Prasad, Raghu, Pradeep CB, Vishwa, Rajender, Karthik, Sridar, Deepu, Sapna, Shantala, Shilpa, Shilpa Raj, Seema, Ashwini, Sujaya and the list goes on. Ill include different page for it.



Favorites

Here's a list of some of my favorite movies:


13th Floor, Matrix, French Kiss, Dil Chatha Hai


Here's a list of some of my favorite music albums:


Savage Gardan, So Far So Good, RHTDM, Paint My Love, Keep the Faith, Day Like Today, MLTR Blue Night, Best of Boy Zone


Karthik, Prasad and Me


Karthik, Prasad and Me

Satya and Raghu